Enhancing the Creative Design Process with Models
Apr 29, 2020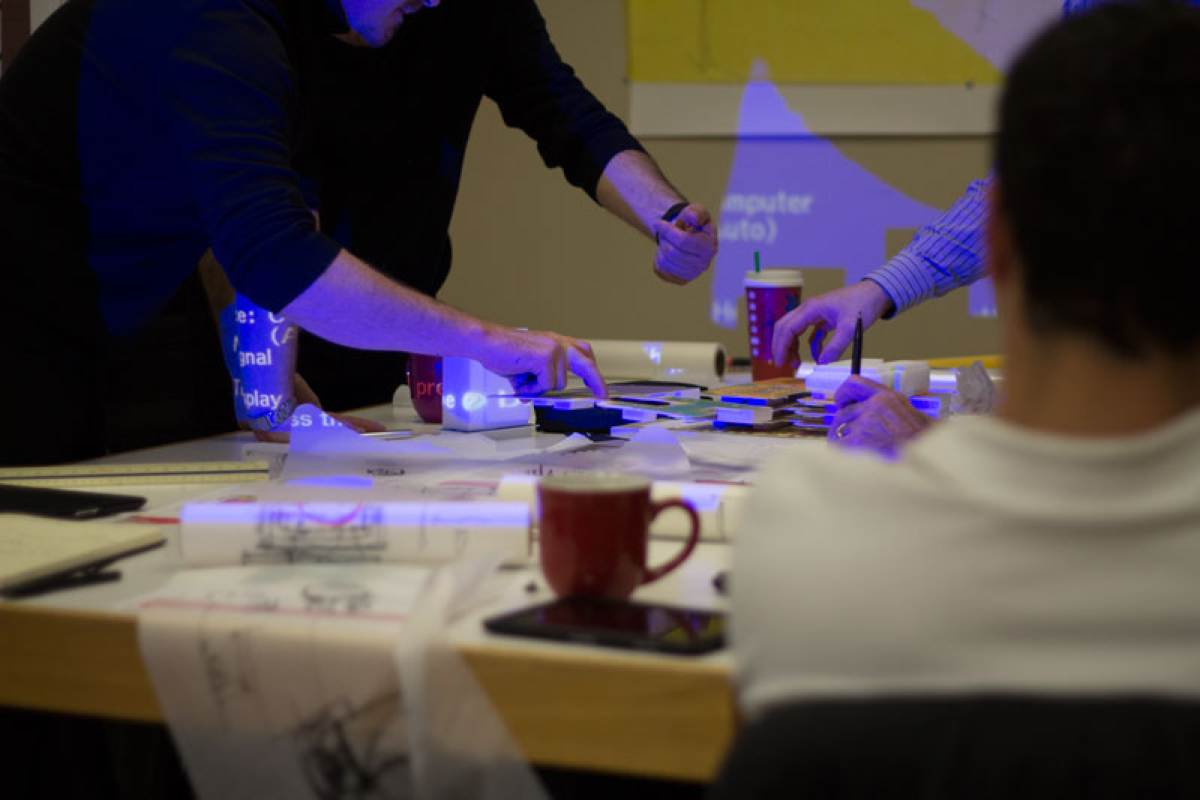 Why models?
Of the many communication and design tools that architects, planners, and designers employ to convey their ideas, physical models are one of the most valuable and comprehensive as they make it easier to interpret the entire project from all 360 degrees. Models work for several reasons. Unlike the two-dimensional representations of video animations, fly-throughs, and perspective renderings, models are true spatial representations of the built environment – they occupy space. They provide each member of the audience with their own unique, individual experience by offering unlimited vantage points and perspectives. This benefits not only the architects, but the client, lenders, brokers, and – ultimately – the public as well. The models invite the viewers to engage and interact with it on their own terms – not through the eyes of an architect who set the view angles and animation path. They also work better to present a project to larger crowds as more people can view simultaneously than they would be simply looking at a screen.

Throughout the design process, models allow designers to address not only the juxtaposition of multiple building masses, but also to study the scale and textures of the spaces between the buildings across the entire composition of a master plan – to thoroughly explore the placemaking techniques that unify a project.
That being said, it's important to note that physical models do not replace digital options. They augment them. And while digital can mask unresolved areas, models compel designers to thoroughly address all spaces and distinguish the relationships between elevation and plan. Digital is still required for BIM and consultant stacking, but physical models are a more effective design tool. They help facilitate incorporation into digital by providing a "mock-up," something that can be carved up or moved instantly – even the client can participate. The result: a real-time review and exchange of ideas by the entire group.
Whether it is a quick massing model to study the volumes, viewpoints and concepts during a charrette or an intricate illuminated marketing model for leasing, models are integral to our design process. They incorporate plans, elevations, sections, sketches, and illustrations to fully convey and represent our ideas. The industry norm is for models to be built after the design process. Ours are part of it. This ensures the satisfaction of the client at every phase of project development and ultimately contributes to the creation of a great place.
Since models work seamlessly with our design process, we have a greater understanding of the challenges and therefore can explore better solutions and alternate concepts. During the charrette working session, D3i's design teams create quick sketches, loose plans and massing models that address design issues in real-time with the client and other stakeholders. At this point, the massing, scale, layout, and forms for a space, building or master plan charrette model are intentionally quick, loose, and malleable but also comprehensively represent an alignment among team members with the intent and spirit of the design moving forward. Block foam, foam cutters, pins, markers, trace paper, utility knife are some of the tools we typically use.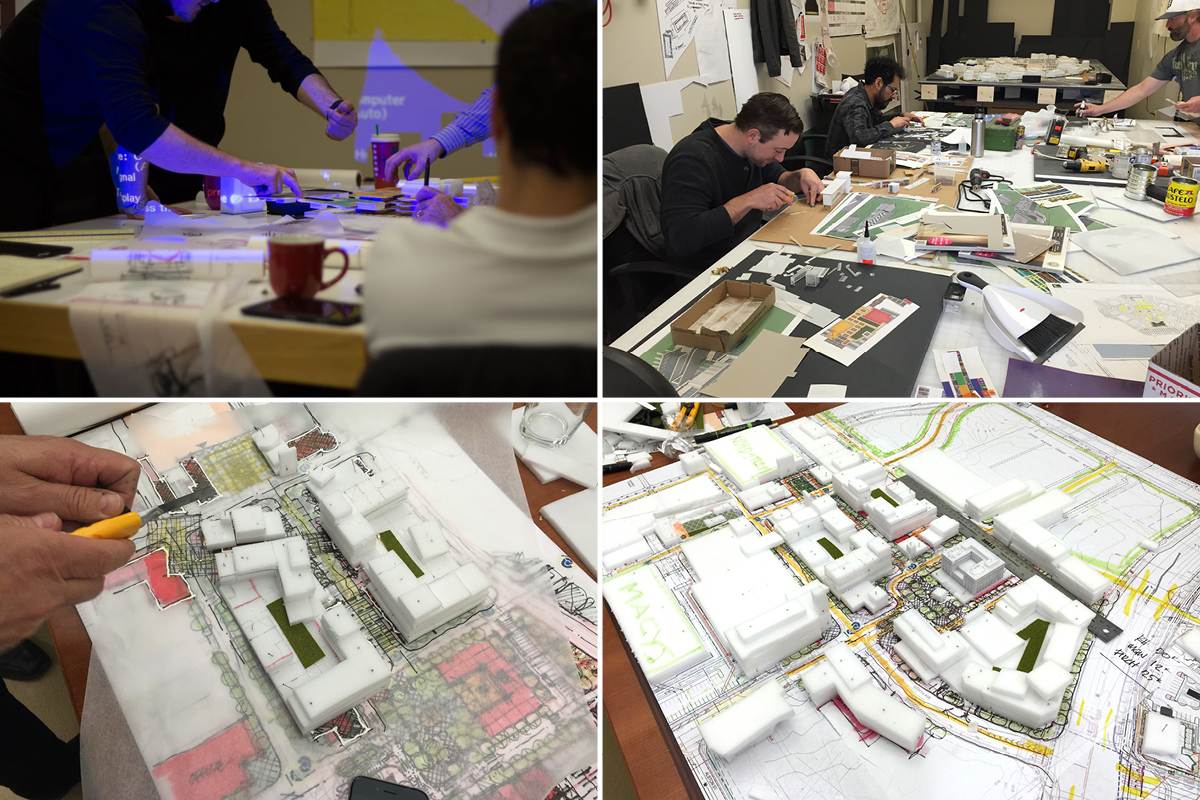 Conceptual Model
Although sketching is often used as a starting point for design, the model at the concept stage of our process refines the ideas and solutions for the project while adhering to the decisions made during the initial charrette. Plans, illustrations and models work seamlessly to convey the design intent. Our team will explore options for general design, landscaping, hard- and soft-scaping, storefront design, environmental graphics, and other related issues. Studies will also explore the plan layout in terms of internal pedestrian circulation – horizontal and vertical.
The conceptual model allows the designer to develop initial concepts and ideas using basic models and shapes to develop a form. It is an early approach to the design, describing an idea in simple terms. The physical model allows us to explore our ideas in 3-D form. The materials used for this tend to be more basic, and a looser approach is taken to the construction process. Changes are usually made quickly and are easy to adjust and tweak as the design evolves.

Schematic Model
Schematic models go a step further in developing the design ambiance and character. At this stage, the model often incorporates detailed and laser-cut parts, cars, and trees to convey scale, printed facades reflecting options with reference to intended construction materials.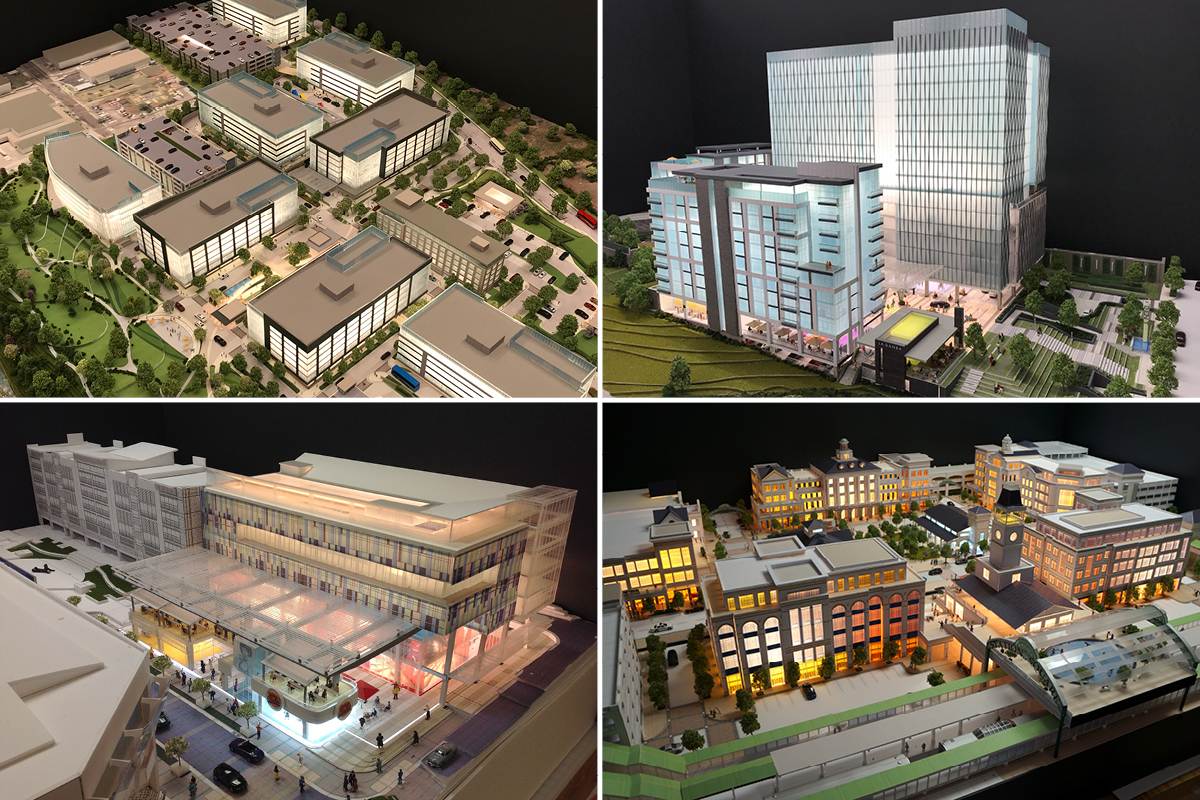 Marketing Model
With the design agreed upon, the marketing model may represent the Schematic or Design Development stage, but is far more detailed because it is intended to be used in marketing offices and will be constructed to allow for transportation to and from conventions and other functions. It may also be used to assist in securing project financing, municipality approvals and leasing presentations to prospective tenants. The Marketing Model often includes the illumination of buildings, street lighting, scaled cars and people, detailed trees and landscape features, final façades and building layout. Some of our models have even included video screens, moving trains, neon, and sound. All of this is intended to convey not only the architectural character of the buildings but also the "animation / activation" of the spaces between the buildings – that creates a truly memorable built environment.

Throughout our design process, D3i is available, accessible, and responsive to the needs of our client as well as having a keen awareness of how people may experience and engage with the places and spaces we design. Our architectural design professionals are highly adept at listening to and collaborating with the client, using our experience to guide the process.
While our models are an integral part of our design process, our model studio has also built final models for other companies and architectural firms.

For additional material about D3i's model studio capabilities: D3i-model brochure-FINAL