Toward an Authentic Neighborhood – The Evolution of Shopping Centers into Mixed-Use Neighborhoods
Nov 07, 2020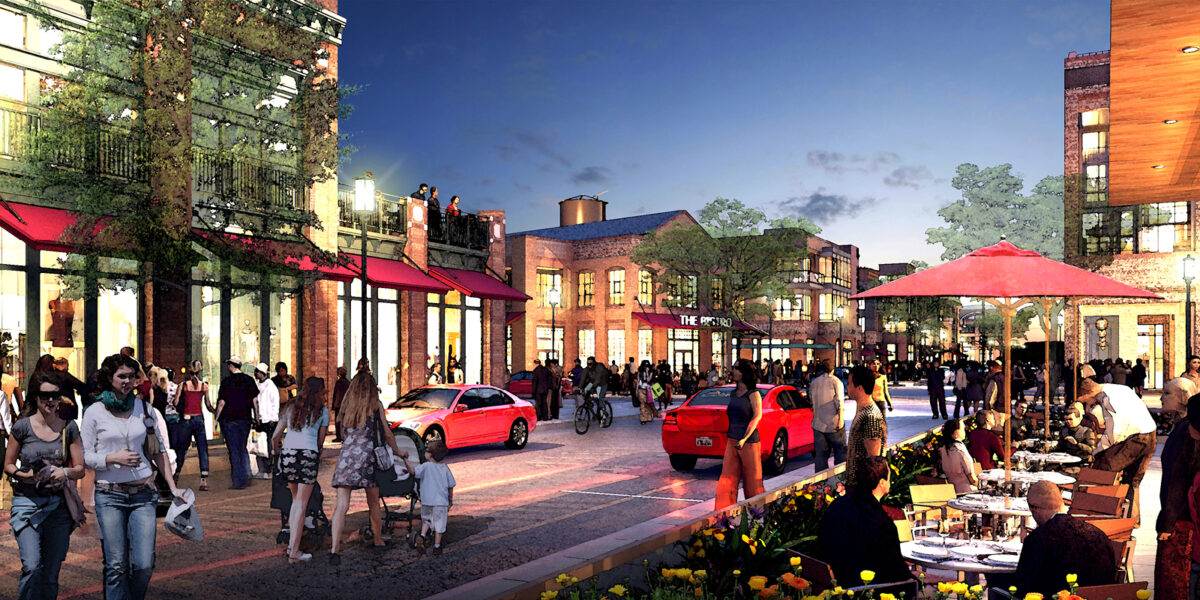 As shopping centers evolve toward an authentic neighborhood, retail gradually stops being the main story. Integrating office and residential components allows to bring along all essential urban activities and functions: civic, social, cultural, recreational, educational, and other complimentary uses. The artificially separated uses are re-joined and integrated to form an authentic mixed-use neighborhood.
The New Neighborhood shall be both self-sufficient and an integral member of an extended family of other neighborhoods forming a metropolitan area.

An Overarching Story of an Authentic mixed use Neighborhood
Evolution from a retail/entertainment center to an authentic neighborhood must start with a re-evaluation of the Storyline (concept/message). To be authentic and meaningful, it must be flexible, complex, layered, and dynamic – reflective of today's life. It must be unique to the Center and its values, involved in a meaningful dialogue with the local community, and be able to engage customers at a personal level. In other words, it must be localized, personalized, humanized and socialized.
The leading role in telling the Story shall belong to Public Art.

Public Art
Public art is much more important than just filling gaps in architecture or creating "Instagrammable moments." Art assumes the role of providing uniqueness, character, and – ultimately – meaning to the neighborhood. Here, even more so as with architecture, only a diverse, layered, and sophisticated program may foster authenticity. Involving a variety of artists, local as well as out-of-city, shall result in a multitude of spontaneous and curated experiences and communicative displays: murals, digital screens, community art, installations, etc. Not only every individual art piece shall have a unique story, but together they shall create an overarching story/concept for the New Neighborhood.

Architectural Language
No more straightforward attempts at historic styles, and at the same time no more generic contemporary abstractions. Instead:
Architecture as a restrained and layered framework (or stage set) for a multitude of spontaneous and curated experiences, communicative displays and art installations
However, occasionally, a building full of character and individuality may emerge to assume the role of a storyteller. A carefully orchestrated balance of building as symbols and buildings as backdrops, of seemingly chaotic-improvised and planned-composed environments
Layering and collage as an expression of complex and layered perception that is characteristic of our time (transparent and translucent materials, intentional fragmentation, juxtaposition of contrasting fragments)
Anything less contradictory and complex will result in the loss of authenticity. Ideally, art, architecture, landscaping, programming shall all jointly contribute to an integrated immersive experience.

Immersive theater as the main metaphor for public spaces in the digital age
"This order is all composed of movement and change, and although it is life, not art, we may fancifully call it the art form of the city…" Jane Jacobs. The Death and Life of Great American Cities.
Building upon the famous passage from Jane Jacobs' "The Death and Life of Great American Cities" comparing street life with a "sidewalk ballet", public space can be compared to a contemporary immersive theater. Unlike a conventional theater, where the audience is passively watching a staged performance from their seats, a successful public space puts everybody in the middle of a spontaneous show making everyone a spectator and a performer at the same time.
Architecture shall proudly reclaim a disgraced role of a stage set. There is nothing inauthentic in this approach.
However, whereas a typical life-style retail center imitating traditional Main Street can be likened to a stage set in a traditional theater The New Neighborhood requires a contemporary stage set: a suggestive layered flexible framework, escaping any single interpretation. The language of elevated platforms and bridges, framed views and vistas, hidden plazas and unexpected art installations – all this shall contribute to the intense experience of "the theater of life," the highest value that public space can offer. This is also the decisive argument a physical public space may offer in its competition with the on-line world.

The role of the original shopping center in an Authentic Neighborhood
In the process of modification and reinvention, an original center may provide a unique opportunity to highlight and express not an imitative, but an ACTUAL process of evolution by assuming a role of an "old town center" or "historic artifact". Wherever possible, the new insertions must produce a layering effect where "old and new" are presented simultaneously.